The Turmeric Supplement You Have Been Looking For...
A potent formula that offers value, quality and pure ingredients - making it the smart choice!
 750mg per capsule 

 Added black pepper extract, BioPerine, to increase absorption

 120 Capsules per bottle 

 Standardized Curcumin for a potent formula

 No GMOs, binders, fillers or preservatives

 Manufactured in the USA
- ABOUT US -
Incredipure is a small nutraceutical company specializing in herbal supplements. Manufactured in the United States following strict GMP guidelines, all products are made using only the highest quality ingredients from suppliers within the U.S.
Why Incredipure?
SAFER, BETTER, SMARTER
Incredipure is designed to not only deliver the benefits but to deliver them quickly and with minimal risk. 
Enjoy the benefits sooner with one of the most potent tumeric supplements on the market! Each capsule contains 750mg of curcumin compared to the typical 500mg. This formula can be easily absorbed thanks to the added BioPerine; a black pepper extract. 
Incredipure is a product you can trust. With no hidden surprises and only pure ingredients. This supplement contains no GMO'S,  binders, filers or preservatives. Each capsule is also free from soy, wheat, eggs, peanuts, shellfish and milk. 
Incredipure is manufactured in the USA in an FDA approved factory.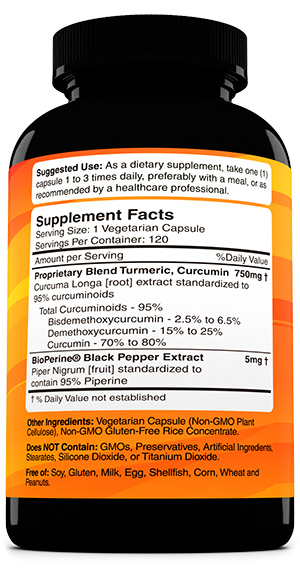 *This statement has not been evaluated by the FDA. This product is not intended to diagnose, treat, cure, or prevent any disease.
Copyright  © 2016